Spring Break, 2000

A trip to Arches National Park, Grand Canyon, Petrified Forest, Albuquerque, and Carlsbad, taken from April 6 through April 13, 2000.

All pictures/images and text are copyrighted.
© 2000 by Don Samuels.

.Pictures were taken by Marina, David, or myself. All rights are reserved.


While our oldest son Michael was off in France with some of his classmates, the three of us (Don, Marina, and David) headed off into the desert. I took my GPS with me, and here is a map showing the route we traveled: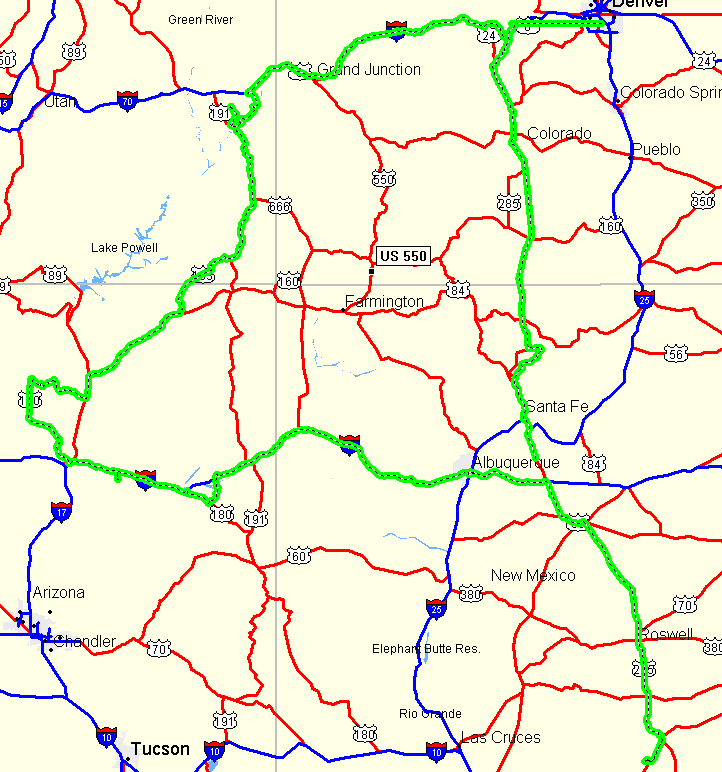 Our trip took us to four National Parks: Arches, the South Rim of the Grand Canyon, Petrified Forest, and Carlsbad Caverns, as well as a two day layover in Albuquerque.
Along the way, David and I took numerous pictures, some of which will be shown here.
Be patient as there are a number of pictures in each section.
The itinerary for the trip was
Day 1: Drive to Moab from home, visit Arches that afternoon.
on 4/16/2001 for April 2001 day trip to Arches
Day 2: Drive from Moab to the South Rim.
Day 3: Horseback ride and some hiking
Day 4: Drive to Albuquerque, stop off at the Meteor Crater, and Petrified Forest.
Day 5: Spend money in Albuquerque
Day 6: Drive to Carlsbad. Visit "Living Desert State Park" outside Carlsbad, NM.
Day 7: Visit the Caverns
Day 8: Drive Home.
This page last updated on 4/16/2001