Mesa Cortina Trail Head to Gore Trail - July 27, 2003
It only took 6 years, but I finally hiked to the trail head to map and time it. This page will show just the Mesa Cortina trail, not the numerous hikes that use all or part of this trail.

Total Distance: 2.8 miles
Approximate 1 way hike time: 1 hour, 15 minutes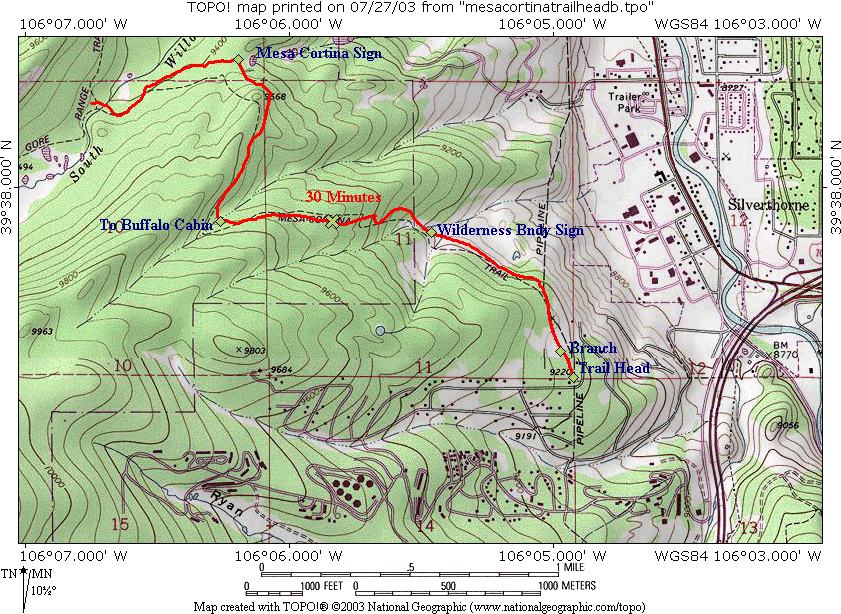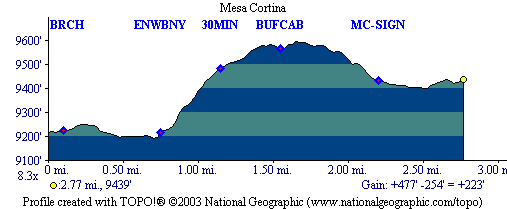 Since the hike went from our house to the trailhead and back, I don't have driving directions to the trail head. Total time to hike the full trail at a slow pace is approximately 1 hour 20 minutes each way.
Parking at the trail head,

The trail starts out following a buried natural gas pipeline. You can see the marker as a round sign on the middle right of the picture.

---
After about a tenth of a mile, a trail branches off to the left. I do not know where this trail goes, take the right branch: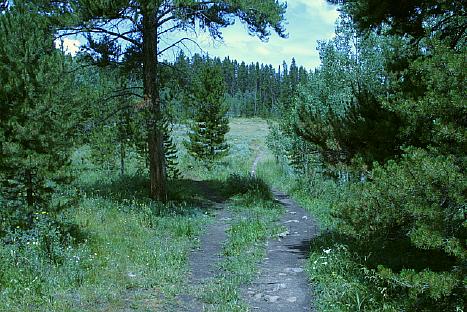 ---
At 15 minutes into the hike, at .75 miles, you arrive at the Eagle's Nest Wildernest Boundary: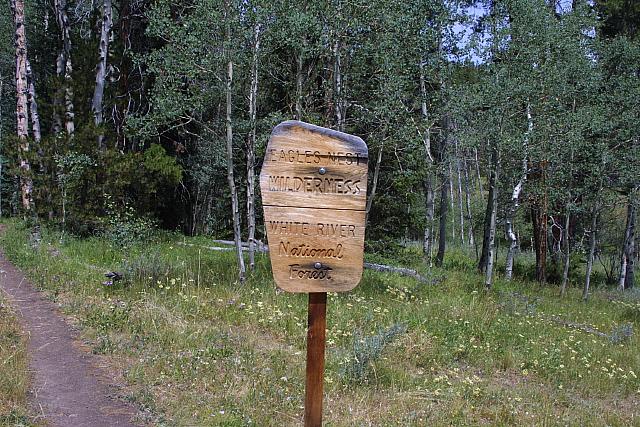 Entering the Wilderness, you start the most serious climb on this trail.

---

After leveling out, at about 1.56 miles, a trail comes in from your left. This trail will lead you to the Buffalo Cabins. A map showing this hike can be had here.

Outward bound on the hike, you know you have reached this trail junction by the white blazes on some trees: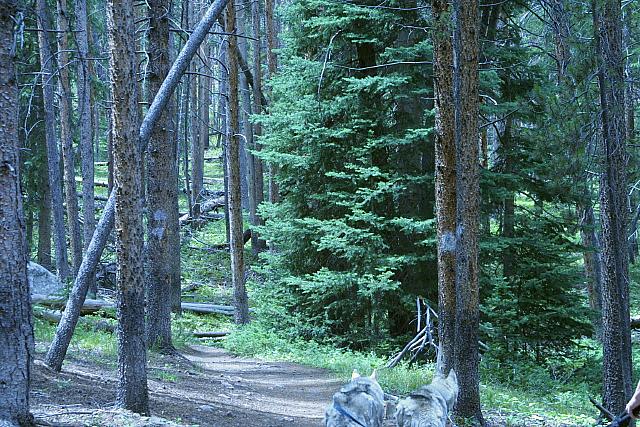 Hiking back towards the trailhead, with the branch now on your right, you will see red blazes: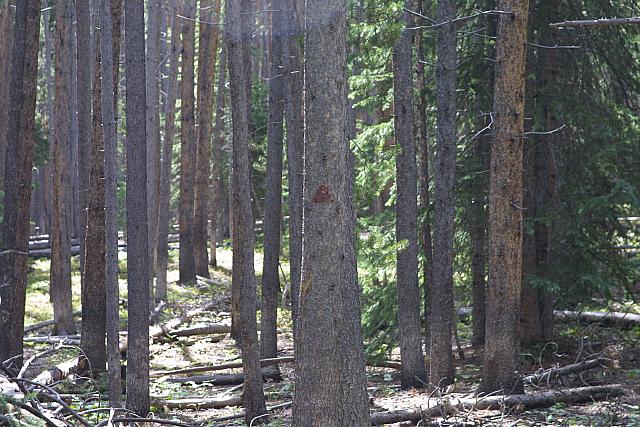 ---
At approximately 1 hour out, a trail comes in from the right, this trail leads only to Ruby Ranch and has no public access. Just before this sign you cross an intermittant creek. When this creek is running, people think that they are crossing the South Fork of the Willowbrook. You are not. There is still 10 to 15 minutes of hike left.
This picture shows the signs associated with this trail junction:
The sign on the right is on the trail and says Mesa Cortina. Further back on the Ruby Ranch trail seen just left of center is a sign that says no-outlet.
Just after this you cross a spot that in the spring is full of water, but is dry by July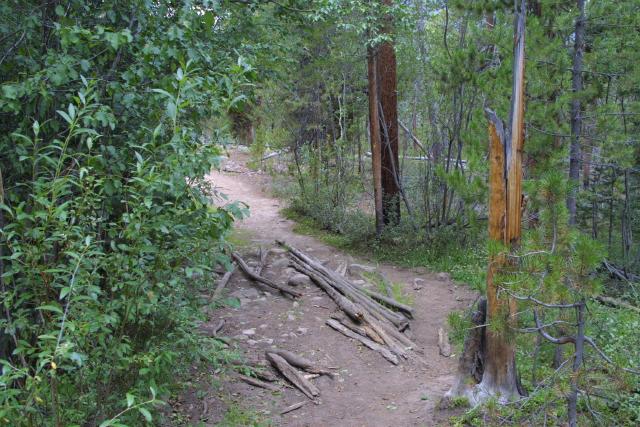 Immediately after crossing this area, a trail comes in from your right. This trail leads to the Willowbrook housing development as well as another Ruby Ranch access point.

---

Another half mile or so brings you to the South Fork. There are two bridges, the first: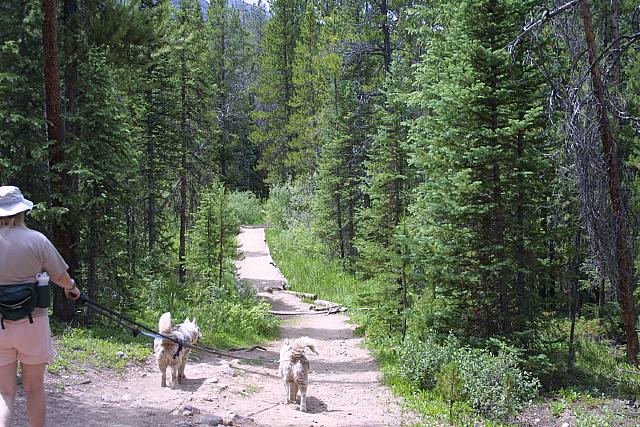 Followed immediately by the actual creek crossing on what I call the "3-log bridge"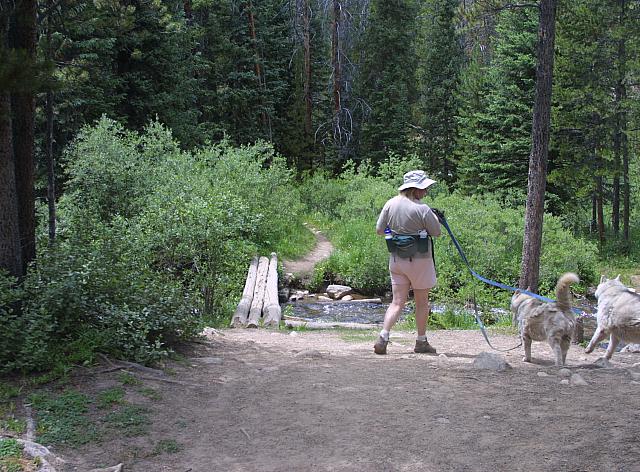 Upon crossing this bridge, go another 10 yards or so and the end of the Mesa-Cortina is reached:
Enlarging the sign:

The Gore Range Trail comes in on your right, and continues straight, as if the Mesa-Cortina trail never stopped.
From here, follow the Gore range trail straight, and Willow Falls can be reached in about 1.7 miles and 50 minutes.

---

Hikes that continue on from this point are numerous.

Taking the Gore Range Trail to the right and continuing Northwards
---

Following the Gore Range Trail Straight, towards the West and South
---
Feedback to Don Samuels
This page last updated July 31, 2003