Hike to Erickson Mine and close to Keystone Summit
July 5, 2000 - Don Samuels, Marina Larson, Julie Schwartz, David, Maddie and Jeffrey Radlauer
Rating: Easy
Distance by Wildflower: 3.33 miles
Starting Elevation: 11436 feet
Min. Elevation: 11301 feet
Max. Elevation this hike: 12372, Keystone summit 12408

Wildflower map with GPS track: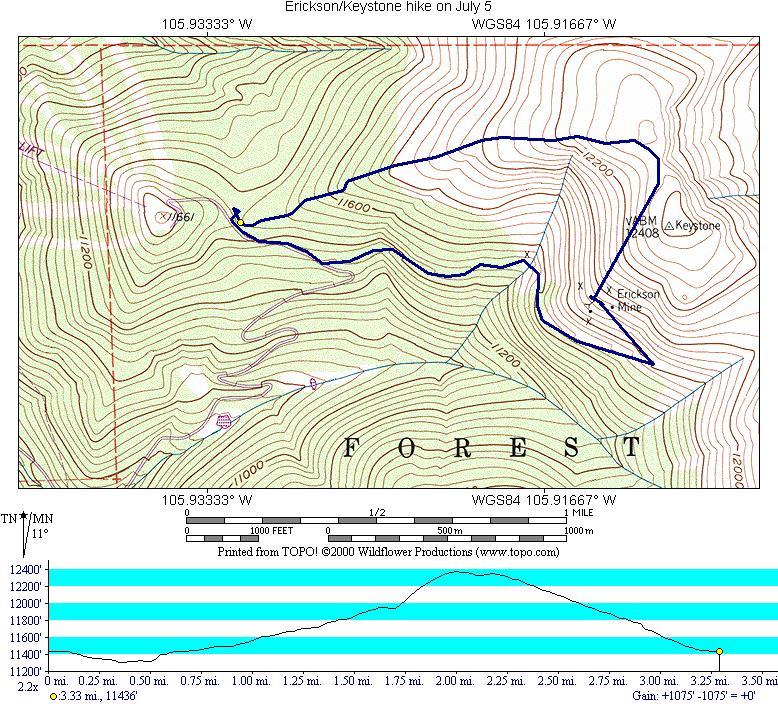 Pictures are out being developed at this writing (July 9, 2000).
For this hike, we took two ski lifts to the North Peak part of the Keystone Ski Resort. The first lift that day was not the gondola, but rather the super quad. It was running at about a normal chair lift speed, so it was slow. We then took the 2nd gondola to North Peak.
For those familiar with North Peak, the gondola does not let you off at the top of this hill, but rather in a saddle between North Peak, and the Keystone mountain proper. The chair lifts do go to the peak.
We left the gondola (elevation 11436 feet), and followed signs which would lead us to the mine. The trail is actually a road. For the first 0.38 miles, we descended along what in winter would be a cat walk. The road then forks (elevation 11301 feet) and we started to climb. The climb is not very serious as we were still on a road. At 0.56 miles we came to a mining tunnel. On the Topo's this is mis-labeled as a mine instead of a tunnel. Elevation at this point was 11530 feet. At 1.44 miles and 11817 feet, we came to the switch back and headed directly for the ruins of the mine. The mine was reached at 1.71 miles (11947 feet). Leaving the mine, we attempted to reach the Keystone summit and then head back directly to the gondola. We did not reach the summit, but turned towards the gondola at 2.03 miles and 12372 feet. We did not have a clear view of the summit, but in hindsight, looking at the maps, we should have attempted it.
This was the steepest part of the hike, and it was not too difficult: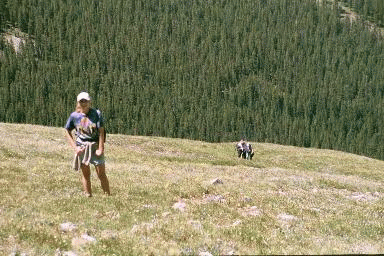 We basically took a direct route back to the gondola. Once we descended below tree line, we kept to the ridge until we hit a trail. This trail ended on the east side of the restaurants next to the gondola.
Some other selected pictures from this hike:

---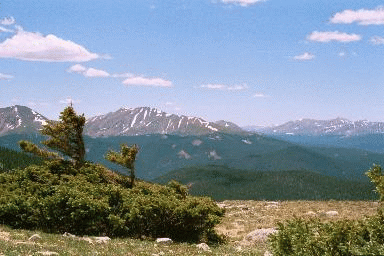 ---

A view of Quandary (a 14er)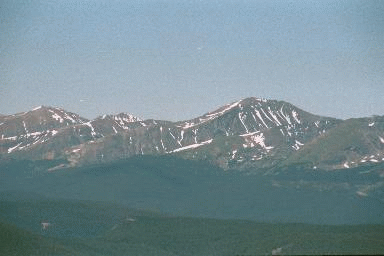 ---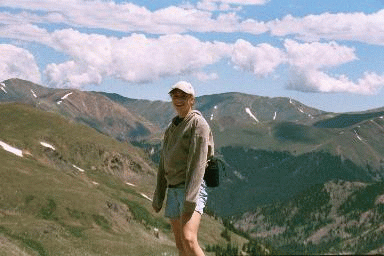 ---
---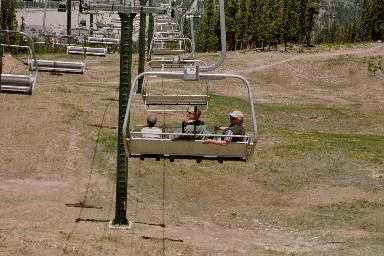 ---